Annual Registration Fee:

 $ 200.00     

Weekly Tuition:

 $280.00
LOVE N CHERISH ACADEMY WILL BE CLOSED ON FRIDAY, SEPTEMBER 30, 2022 DUE TO PENDING INCLEMENT WEATHER

In August 2014, Love N Cherish Academy opened its doors at our current location as a Level B+ SC ABC Quality Rated facility. After Ms. Erica was told by an ABC Quality Rating Monitor that the school would never be able to achieve Level A status, Love N Cherish Academy reached that goal within 1 year and 6 months after that achieved Level A+ Rating. This rating has been maintained since its acquisition in 2016. Love N Cherish Academy is the only privately minority-owned Level A+ SC ABC Quality Rated Preschool in York County, South Carolina. We take pride in educating our learners, not just providing.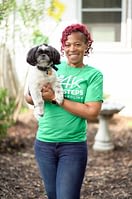 Erica Roseborough -Director/Co-Owner
Ms. Erica is a graduate of South Carolina State University with a Bachelor's degree in Early Childhood Education. Erica was born and raised in Rock Hill, SC. She taught in a registered home center for several years. Erica's love for children and to further her mother's vision of opening an early learning center led her to establish a preschool with the goal of ensuring children know they are loved, safe, and valued. She loves to travel and spending time with her family including Fur Baby Oreo!
Alfreda Roseborough-Manager/Co-Owner
Ms. Freda attended and graduated from the University of South Carolina, Regents College, and Gardner Webb University. She is a Registered Nurse. Freda was born in raised in Rock Hill, SC. She has worked in several areas of nursing before partnering with her sister, Ms. Erica to further their mother's vision. Ms. Freda works behind the scenes managing family accounts and maintains the health and safety of our students, team members, family, and friends of our Early Learning Center.  Ms. Freda loves to spend time with her school-age children, family, and travel.
Contact us for more information