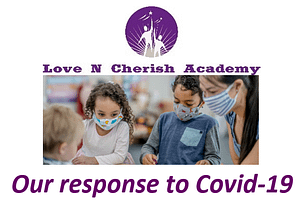 Annual Registration Fee: $ 200.00     Weekly Tuition: $280.00
Covid-19 and its variants are still a threat to the community. Children under 5 years of age are not yet eligible to receive the Covid Vaccine so it is extremely important that our parents/guardians, staff, and visitors do their part in slowing the spread of this virus. The CDC's latest guidance for adults to reduce the spread is as follows: 
Get Vaccinated
Wear a mask
Stay 6 feet away from others
Avoid crowds and poorly ventilated spaces
Test to prevent spread to others
Wash your hands often
Cover coughs and sneezes
Clean and disinfect
Monitor your health daily
OUR MITIGATING MEASURES
Despite the high level of cases in our community, we are proud to say that because of our mitigating measures, we did not have a case of Covid in 2020 and only 1 in 2021. Our mitigating measures for the 2021-2022 School year as follows:
We are proud to say that 100% of our staff is vaccinated
Frequent hand hygiene program. All students & staff must wash their hands using the proper technique upon arrival each day and throughout the day.
Physical Distancing: We  know that physical distancing in this age group is next to impossible as children in this age group need verbal and tactical (physical) stimulation for their mental, social, and emotional growth. However when in close contact for longer than 15 minutes with our students, teachers will wear masks.
Deep Cleaning. Deep cleaning of all classrooms and common areas is preformed on Fridays. During the week all manipulatives and shared material are disinfected by teachers after each use with an approved disinfectant solution. These manipulative and shared materials are then stored and not brought back into use until at least 24 hours has passed.
RESOURCES
Schools & Childcare Centers (COVID-19)
Quarantine and Isolation Calculator