Annual Registration Fee: $200.00         Weekly Tuition: $280.00
The toddler age group is a diverse one, and each child is different. We recognize and encourage these differences, and our toddler teaching team's practice a variety of strategies that allow for each child to begin defining his/her own sense of independence while dependent on the adults caring for and teaching him/her. We maintain a 5 child to 1 adult ratio in our classrooms and a maximum of 10 students per class. Each toddler is assigned an individual teaching team member as his/her primary caregiver.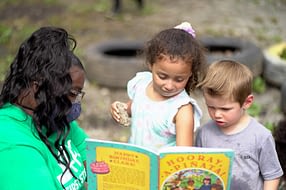 Our toddler classrooms follow a daily routine that is consistent yet flexible. The children quickly learn to anticipate what will come next in their day and begin to demonstrate initiative. A typical day includes Greeting Time, Choice Time, Group Time, and Outside Time. The teaching teams plan their lessons daily to ensure that they are supporting the children's current interests and developmental progress. Observation and assessment provide key insight into the needs of the individual children and serve as a foundation for goal setting and lesson planning. Toilet training is also incorporated into the daily routine older toddlers
who demonstrate interest and developmental readiness. Teachers and parents work in partnership to develop a toilet training plan for their child that is consistent between home and school. Our toddler program provides a solid steppingstone into our preschool.
Toddlers typically begin their transition to preschool between 33 and 36 months old. At that time the child has many opportunities to visit his/her new classroom for short periods of time to become acclimated with the larger class size and the preschool routine. Once the child is feeling comfortable in his/her new setting, the teachers and parents agree upon a date for the child to move into the preschool program.
Contact us for more information
---