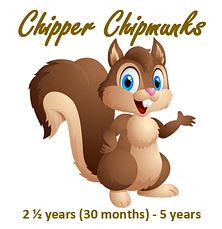 Annual Registration Fee: $ 200.00     Weekly Tuition: $280.00
Preschool is the beginning of a very exciting time in the life of a young child. Our days are filled with a variety of learning opportunities that become the building blocks for each child's preparation for kindergarten. We focus on developing social skills and developing a desire for learning in each child. While it feels like "we play all day", we are very strategic in our planning to ensure that our expectations are appropriate for the current group of children we are working with. Through play, the children learn problem-solving skills, develop initiative,
and practice math, science, reading, and writing throughout every part of the day. Our individualized assessment and planning strategies provide a comprehensive pre-school program that blends into our pre-kindergarten program with a smooth transition. Our preschool classrooms follow a ratio of 11 children per 1 adult with a maximum of 22 students per class, and each student is assigned to a small group teacher who is responsible for the planning and assessment of that child.
Chipper Chipmunks Daily Schedule
Contact us for more information